Silver price at two-year low
The silver price has really collapsed in recent weeks. In view of the poor economic outlook, however, even lower prices are quite possible in the coming months.
From mid-May to the beginning of September, the price of silver fell from US$21.80 to around US$18 per troy ounce. This is a decline of 17% in less than four months. In euro terms, the fall from €0.66 to €0.58 per gram is not as great. This is due to the devaluation of the European common currency against the US dollar. But the 12% drop in the European price of silver also represents a lavish movement. Silver thus currently costs as little as it did in the summer two years ago or shortly before the outbreak of the Corona pandemic in the spring of 2020.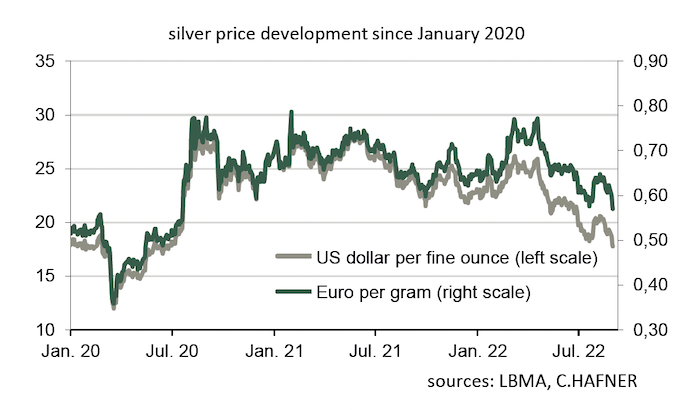 The price development is not surprising in view of the miserable economic outlook and the high share of industrial demand for silver. In Europe, high energy prices are likely to weigh heavily on the economy over the winter. Important indicators such as the ifo Institute's business climate index for Germany suggest a recession. In the USA, things do not look much better. There, the energy supply is not as big a problem as in Europe. But the US Federal Reserve continues to tighten monetary policy. Only at the end of August, at the central bank conference in Jackson Hole, its chairman Jerome Powell held out the prospect of further key interest rate hikes to combat inflation. So far, this has been a burden above all on the interest-sensitive real estate industry. And in China, the construction industry is currently in crisis after various construction companies have run into payment difficulties. As property prices have started to fall, people are holding back on buying new condominiums. Contract signings for new buildings in China were recently 31% lower than the previous year. Where there is less construction, there is also less need for electrical switchgear and new electrical appliances that contain silver. In addition, sales of consumer electronics could also be dampened due to high inflation in the winter. Like gold, a turnaround to sustainably rising prices for silver is, therefore, only likely when the Western world is in recession, and a change of direction in central bank policy becomes apparent.
Written by the market specialist Dr. Thorsten Proettel on behalf of C.Hafner.

Publicerad 16 september, 2022